6" eBook 621EB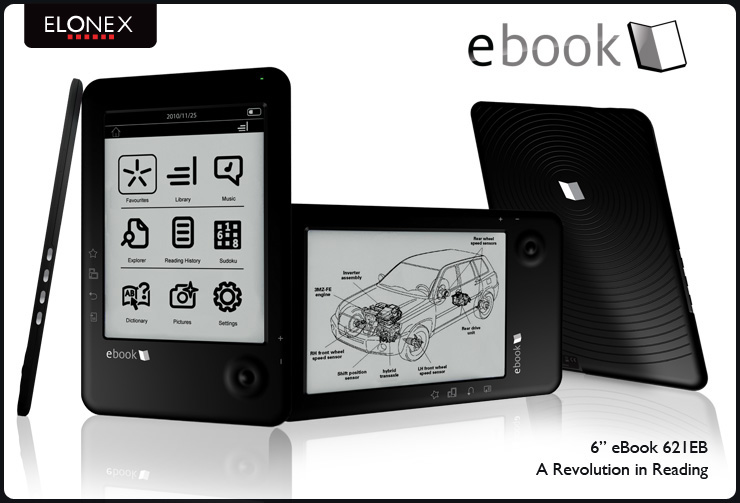 A Reading Revolution
The eBook's 6" eInk screen is a window to a world of next generation digital content. Read eBooks, digital magazines, comics, cooking books, travel guides and much more. The eBook uses a paper-like screen with e-Ink® technology, so reading is gentle on the eye, even in direct sunlight! The screen is ultra high resolution (166dpi), flicker free and you can change the font size to reduce any eye strain you get when you read.


Music & Pictures
The eBook is a great way to unwind and enjoy your favourite Music, audioBooks & Pictures (grey scale). With your favourite multimedia in your pocket its great for the commute to work or taking on holiday. (2.5mm jack headphones not included)
eBooks and freeBooks
eBooks and freeBooks The eBook uses ePub and PDF (as well as various less widespread formats) with Adobe DRM (Digital Editions) protection letting you download the latest chart topping books. The eBook has storage space for around 1000* books and comes with access to over 1 Million freeBooks & Magazines at freebook.elonex.com


Style & Substance
Designed with minimalist ultra-modern styling, the lightweight and ultra-thin eBook is both portable and powerful. Its revolutionary screen means the eBook doesnt use energy when displaying a page, only when turning a page. This means it has a huge battery life so you can enjoy up to 8000 pages between charges, thats about 3 months for an average reader.